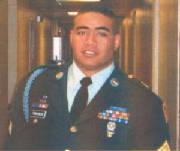 SSG Salamo J. Tuialuuluu
13 December 1980 – 04 December 2004
SSG Tuialuuluu was born in Pago Pago American Samoa on December 13th, 1980 to Vaimili and Ululima Tuialuuluu.
SSG Tuialuuluu entered active duty on August 16, 1999. From 1999 to 2001 he was Stationed at Fort Campbell, Kentucky and was stationed at Camp Greaves, Korea from 2001 to 2002. On July 19th, 2002 he was assigned to Alpha Company 3-21 Infantry where he has served as squad leader.
SSG Tuialuuluu awards and decorations include the Combat Infantry Badge, the Expert Infantry Badge, Bronze Star, Purple Heart, Army Achievement Medal with two oak leaf clusters, National Defense Service medal, Korean Defense Service Medal, Kosovo Service Medal, Good Conduct Medal, Army Service Ribbon, Global War on Terrorism Medal, and NATO Ribbon.
SSG Tuialuuluu is survived by his wife Andrea and his daughter Esetavave. SSG Tuialuuluu was expecting his second child in May.